Photo Courtesy:
Olson Photography & Design 515-707-2998
---
Temple Hours
Monday
9:00 AM to Noon
5:00 PM to 8:00 PM
Tuesday
9:00 AM to Noon
5:00 PM to 8:00 PM
Wednesday
9:00 AM to 11:00 AM
Evenings: Closed
Thursday
9:00 AM to 11:00 AM
Evenings: Closed
Friday
9:00 AM to Noon
5:00 PM to 8:00 PM
Saturday
9:00 AM to 8:00 PM
Sunday
9:00 AM to 6:00 PM
Holidays follow the schedule above.
The Priest is not available during other hours unless specific requests are made in advance.
During the winter months, please call the Temple, 515-795-2635, to check if the Temple is open.
---
Careers at Iowa Temple
Hindu Temple and Cultural Center, Iowa is seeking a full time experienced Priest for performing South Indian Hindu ceremonies/rituals. Please click here for more details.
---
Facebook
Please follow us on our Facebook page and get latest the information and updates.
https://www.facebook.com/HinduTempleIowa
Join us and send us your feedback.
---
Navaratri Celebrations - September 24, 2014 thru October 4th, 2014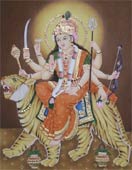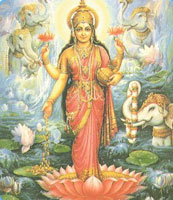 Program
Daily Program
10:00 AM
Daily morning Durga Pooja with Sapta Sati chanting
7:00 PM
Daily chanting of Lalita Sahasra Namam (Please confirm with Pundit Upreti ji)
8:00 PM
Daily Garba dancing ( Not confirmed. Please check with Pundit ji at the temple)
Program details and timings
Sept 24, Wednesday
10:00 AM
Durga Nava Kalasha Sthapana
Sept 27, Saturday (Akhanda Tulasi Ramayan Recitation)
07:30 AM
Suprabhata Seva
08:30 AM
Global Vishnu Sahasra Nama Chanting (5 times)
11:00 AM
Akhanda Tulasi Ramayan Parayan starts
Ramayan recitation continues all day and night until 1 PM on Sunday
Sept 28, Sunday
01:00 PM
Akhanda Tulasi Ramayan ends, Arathi and Lunch
02:00 PM
Telugu Community Bathukamma Festival celebration
Please Note:


Please note that no ARCHANAS are performed by priest during Ramayan Recitiation. Saturday 11 AM to Sunday 1 PM. Only Darshan is allowed
Devotees are requested to silently do darshan and exit the Main Mandir
Tirtham and Prasadam will be given in the corridor

Oct 3, Friday
6:00 PM
Chandi Homam
Sponsorship Information
Single event donation = $51
Chandi Homam = $51
All events for 9 days for a donation of $251
Note: Some events like Garba dances and Mata Di Chowki are not confirmed yet. Please contact Pundit ji for details.
Temple Phone # : 515-795-2635.
Other highlights
Special fruit and vegetable garland decorations for all Deities
Special doll display and decorations
Mata di Chowki bhajans (To be confirmed)
Special lunches and dinners
---
VIJAYA DASHAMI (Dussera) CELEBRATIONS October 4th, 2014
Program
Oct 4, Saturday
8:00 AM
Suprabhata Seva
10:00 AM
Monthly Balaji Abhishekam
2:00 PM
Sudharashana Homam
Evening Program (Vijaya Dashami/Dussera Celebrations)
5:00 PM
Sri Rama Pooja
6:30 PM or Dusk
RAMA Parivar Procession and Ravan Dahan (Burning the effigy of Ravan as depicted in the Epic Ramayan)
7:00 PM
Special Dinner
Note
We need following items for Sudharshana Homam:

Home made Ghee ( 5 to 10 quarts )
Prasadam for Homam Offering ( Appam, Sweet Pongal, Cooked Rice ) - Must be prepared at Temple Kitchen
4 packets of DRY COCONUTS (sold at Indian Groceries)
Fruits and Flowers

We need 10-12 Volunteers to carry Rama Parivar in Procession at 5 PM
Main Doors of Mandir would be closed after returning from Ravan Dahan as a tradition followed in North India
Sponsorship Information
Single event donation = $51
Sudharshana Homam and Sri Rama Pooja can be sponsored for a donation of $51.
All events for 9 days for a donation of $251
---
Balaji Special Thirupavadai (Maha Anna Neivedyam) October 11th, 2014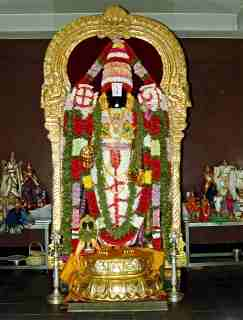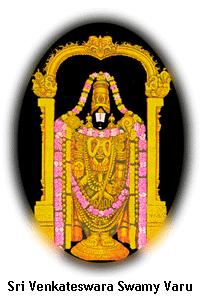 Program
Oct 11, Saturday
6:00 PM
Sankalpam, Chanting of Anna Sooktam and Upanishad
6:15 PM
Group chanting of Lakshmi Astotharam and Vishnu Sahasra Nama
6:45 PM
Offering to Lord Venkateshwara/Chaturveda Parayanam / Sri Venkateshwara Astothara Archana
7:15 PM
Mantra Pushpam, SatuMurai, Mangala Arathi
7:30 PM
Dinner
Note
Food offered to Lord will be distributed as prasadam after the pooja
Copies of Vishnu Sahasra Nama stotra, in various languages, are available at the Temple.
We need help to prepare food items for the offering and also to get certain fruits and other items. Please contact Praveena Chander ( vinu_chander@yahoo.com ) for details
All food items MUST BE prepared at the Temple kitchen
All other food policies such as no onion, no garlic, no mushroom etc., apply. All ingredients should be properly washed and used for preparation
Volunteers, please use food serving gloves during cooking/display help
---
Diwali Celebrations October 25th, 2014
Program
Oct 25, Saturday
5:00 PM
Lakshmi and Ganesha Abhishekam
07:00 PM
Anna Koot and Govardhan Pooja
( Sponsored by Gujarati Samaj of Iowa)
07:00 PM
Special Dinner
09:00 PM
Fireworks
Note
Per Fire Department guidelines, Fireworks are handled by Professionals. Devotees are advised not bring personal fireworks as that would be hazardous to general public. Adequate sparklers for children would be made available for purchase.

Read Significance of Diwali here: http://en.wikipedia.org/wiki/Diwali
Sponsorship Information
Special Pooja for your Family + Prasad - $51
Special Pooja + Prasad + Blessed Shawl - $251
Special Pooja + Prasad + Silver Coin + Blessed Shawl - $501 and above
---
Calendar
See festival calendar for 2014.
---
Credit cards for payment
We accept all major credit cards as a mode of payment towards pooja services and lunch service.
For the convenience of our devotees and patrons, we have installed two credit card swiping machines (one in the priest room and the second one in the kitchen) at the Temple.
The following credit cards are accepted:
Visa
MasterCard
Discover
American Express

Reward cards with Visa/Master Card logos
We welcome, and encourage, all devotees to make use of this facility during their visit to the Temple. Our Priest Pt. Upreti or a designated volunteer will be available to help with processing the credit card payment.
---
Regular events
Daily, 9:00 AM
Sri Vishnu Parayanam
See details.
Mondays, 7:00 PM
Shiva/Rudra Abhishekam
See details.
Fridays, 7:00 PM
Lakshmi Pooja

First Saturdays, 11:00 AM
Balaji Abhishekam
See details.
Second Saturdays, 11:00 AM
Ganesha Abhishekam
See details.
Third Saturdays, 11:00 AM
Parvati Abhishekam
See details.
Fourth Saturdays, 11:00 AM
Karthikeya Abhishekam
See details.
Fifth Saturdays (if applicable)
Durga Pooja
See details.
First Sundays, 11:00 AM
Bhagavad Geetha
See details.
Second Sundays, 11:00 AM
Sathyanarayana Pooja
See details.
Third Sundays, 11:00 AM
Navagraha Abhishekam
See details.
Fourth Sundays, 11:00 AM
Sundara Kaanda Patan
See details.
Last Sundays of each month, 5:00 PM

Sri Swaminarayan Bhajans and Arathi


by the Gujarathi Samaj
Fifth Sundays (if applicable)
Ram Parivar Pooja
See details.
Note:
When major events or festivals are planned, the timings for the regular events may change or events may be canceled. Please contact the Temple if you have questions.
---
Food service at the Temple
The weekend lunch service at the Temple is available because of volunteers and is a major source of income for the Temple.
We appreciate and thank all food service volunteers and their families for their help and contributions to sustain this program.
Lunch and dinner is also served during major festivals or events at the Temple. Many volunteers spend countless hours in meticulously preparing and serving delicious food to the devotees.
Please see the following guidelines for participating in the Temple food service program.
No outside food is permitted inside the Sanctum Mandir for offering to God.
Only food prepared in the Temple kitchen is allowed for offering. There are no exceptions.
No garlic, onion, mushrooms, or egg can be used in any of the food prepared.
All food should be 100% vegetarian.
No leftover food from other functions is allowed.
Consider preparing and serving food with no nuts to accommodate people who may be allergic
Label your dishes if they contain nuts and other items so that devotees can avoid them.
Always use disposable gloves during food service preparation and distribution. Gloves are available in the Temple kitchen.
To sign up for weekend lunch service, please visit : HTCC Lunch Menu Schedule
---
Temple Etiquette
The Temple is a place of worship. To make your visit to the Temple an experience you will remember, please follow the guidelines outlined in this document.