Photo Courtesy:
Olson Photography & Design 515-707-2998
---
Temple Hours
Monday
9:00 AM to Noon
5:00 PM to 8:00 PM
Tuesday
9:00 AM to Noon
5:00 PM to 8:00 PM
Wednesday
9:00 AM to 11:00 AM
Evenings: Closed
Thursday
9:00 AM to 11:00 AM
Evenings: Closed
Friday
9:00 AM to Noon
5:00 PM to 8:00 PM
Saturday
9:00 AM to 8:00 PM
Sunday
9:00 AM to 6:00 PM
Holidays follow the schedule above.
The Priest is not available during other hours unless specific requests are made in advance.
During the winter months, please call the Temple, 515-795-2635, to check if the Temple is open.
---
Facebook
Please follow us on our Facebook page and get latest the information and updates.
https://www.facebook.com/HinduTempleIowa
Join us and send us your feedback.
---
HTCC LOHRI(BHOGI) CELEBRATIONS - Tuesday, Jan.13, 2015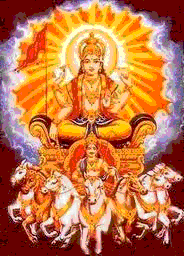 Program
January 13th 2015, Tuesday
6 PM

Lohri will be celebrated at the Temple on Tuesday
Program will include Agni Pooja, Parikrama and distribution of Sweets.
Devotees may bring Sweets for distribution
Any offering to Lord needs to be prepared at the Temple Kitchen.
Note:
The Uttarayana Punya Kala starts on Makara Sankranthi day on Wednesday, Jan. 14th
---
HTCC - Sri Ranganatha and Andal Kalyanam - Saturday, Jan 17th, 2015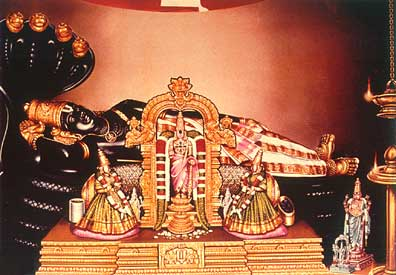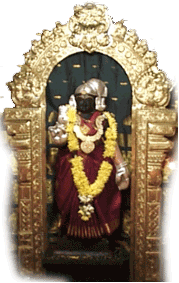 Synopsis

Andal, the incarnation of Mother Earth, Bhoodevi, is one of the twelve Aalvaars, great devotees of Vishnu. She was found in the garden of Periyaalvar. She grew up to be a great devotee of Vishnu and a mystic poet. She is the author of Thiruppavai. Even as a human she attained beatitude, as the consort of her chosen Lord Ranganatha of Srirangam. She is the best exponent of Bakthi Marga and a celebrated model of "bridal mysticism".
Program
Jan 17th, Saturday
10:30 AM

Program starts with all the wedding rituals like Vara Pooja, Kanya Dhanam and Mngalya Dharanam
The program will conclude with Dhoopa, Deepa, Neivedyam
Arathi followed by Thirtha Prasadam and Lunch
Note:
Devotees may sponsor Kalyanam for a donation of $51
Devotees may bring fruits, flowers, dry fruits, coconuts, milk etc. for the event
---
Basanath Panchami Saraswati Abhishekam - Saturday, Jan 24th, 2015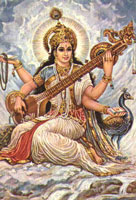 Synopsis

Goddess Saraswati is Goddess of Learning and Knowledge. She always wears a pristine white dress representing unblemished qualities of knowledge. She symbolizes Music as well and always seen with a Musical Instrument called Veena (a string instrument). She is the consort of Chaturmuka Brahma(creator of the Universe), and is also known as Vani and Vaghdevi.
Program
Jan 24th, Saturday
11:00 AM
Goddess Saraswathi Abhishekam

Pooja for Books
Songs on Goddess Saraswati
Bhajans and Arathi followed by Prasadam and Lunch
Note:
Devotees may sponsor Kalyanam for a donation of $51. This day is best for Aksharbyasam (Learning first Alphabets) for young children.
Please bring a slate, chalk,fruits and flowers for the Aksharbyasam.
A nominal fee of $51 is applicable for this ceremony
---
HTCC Madhwa Navami Celebrations - Saturday, Jan. 31, 2015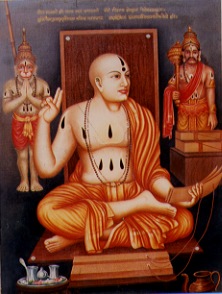 Synopsis

Sri Madhwacharya also known as Srimad Ananda Tīrtha, is the founder of the Dvaita(Dualism) School of Vedanta. He is the last of the great Achāryas of Hindu Philosophy( the other two being Sri Shankara and Sri Ramanuja), and is also the 22nd commentator on the Brahma-Sūtra of Veda Vyāsa. Acharya Madhva is the third incarnation of Vayu, the god of life, as given in the BaLitthā Sūkta of the Rg Veda. The first two avatāra-s of Vauy are Hanumān and Bhīma, and the third is Madhva, who came down to Earth as a Sanyasi to spread the Vishnu Sarvottamatva(greatness) and the Doctrine of Duality. Acharya Madhva was born in 1238 AD in a place called Pajaka near Udupi in Karnataka state of India. He learnt Vedic scriptures at a young age of 8 years and traveled all over India to spread his Dviata philosophy. He wrote several commentaries on Bhagwad Gita and MahaBharata. He commented on several Canonical texts including Upanishads He installed Lord Krishna idol at Udupi Temple, whom he worshipped all his life. He visited Badari in Himalayas to seek guidance from his Guru Veda Vyasa. Sri Madhwa's philosophy is unique and is based on the authority of the Vedas, Puranas, Ramayana, Mahabharata and Pancaratra Agamas. The unique feature of his interpretation is that he harmonizes all the passages in the light of a single principle that they adore and glorify the infinite auspicious qualities of Lord Narayana, who is the supreme Reality. Sri Madhva disappeared from amidst an audience, after giving a lecture on the Aitareya Upanishad, on the ninth day of the shukla paksha in the month of Magha in 1317 AD, and now is permanently in Badarikāshrama, where he serves his master Veda Vyasa in person. Sri Raghavendra Swamy of Manthralaya is one of the famous Acharyas of Madhva lineage.

Information Courtesy: Dvaita.org and Sri Bannanje Govindacharya
Program
Jan 31st, Saturday
11:00 AM
Pavamana Homam with Pavamana Suktam
12:30 PM
Bhajans and Kirthans
1:00 PM
Maha Mangala Arathi and Prasadam
---
Sri Tyagaraja and Sri Purandaradasa Aradhana - Sunday, Feb. 1, 2015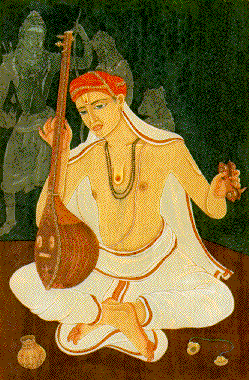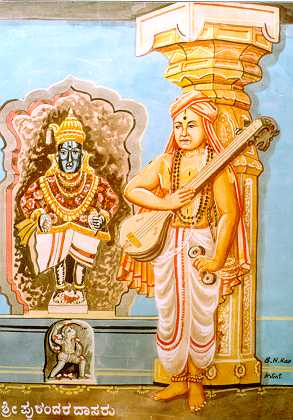 Program
February 1st, Sunday
11 AM
Individual singing of Thyagaraja and Purandara Dasa krithis
12:30 PM
Arathi and Tirtha Prasadam
1:00 PM
Lunch
Note:
To accommodate all the participants, we request each participant to sing just one song
You may sing any classical song of various Carnatic or Hindustani Composers
We encourage you to sign up by sending email early. If you decide to show upfor singing on that day that would be fine but, you will be allotted a slot at the end of all singers who would have signed up earlier. No exceptions, please.
---
Credit cards for payment
We accept all major credit cards as a mode of payment towards pooja services and lunch service.
For the convenience of our devotees and patrons, we have installed two credit card swiping machines (one in the priest room and the second one in the kitchen) at the Temple.
The following credit cards are accepted:
Visa
MasterCard
Discover
Reward cards with Visa/Master Card logos
We welcome, and encourage, all devotees to make use of this facility during their visit to the Temple. Our Priest Pt. Upreti or a designated volunteer will be available to help with processing the credit card payment.
---
Regular events
Daily, 9:00 AM
Sri Vishnu Parayanam
See details.
Mondays, 7:00 PM
Shiva/Rudra Abhishekam
See details.
Fridays, 7:00 PM
Lakshmi Pooja

First Saturdays, 11:00 AM
Balaji Abhishekam
See details.
Second Saturdays, 11:00 AM
Ganesha Abhishekam
See details.
Third Saturdays, 11:00 AM
Parvati Abhishekam
See details.
Fourth Saturdays, 11:00 AM
Karthikeya Abhishekam
See details.
Fifth Saturdays (if applicable)
Durga Pooja
See details.
First Sundays, 11:00 AM
Bhagavad Geetha
See details.
Second Sundays, 11:00 AM
Sathyanarayana Pooja
See details.
Third Sundays, 11:00 AM
Navagraha Abhishekam
See details.
Fourth Sundays, 11:00 AM
Sundara Kaanda Patan
See details.
Last Sundays of each month, 5:00 PM

Sri Swaminarayan Bhajans and Arathi


by the Gujarathi Samaj
Fifth Sundays (if applicable)
Ram Parivar Pooja
See details.
Note:
When major events or festivals are planned, the timings for the regular events may change or events may be canceled. Please contact the Temple if you have questions.
---
Food service at the Temple
The weekend lunch service at the Temple is available because of volunteers and is a major source of income for the Temple.
We appreciate and thank all food service volunteers and their families for their help and contributions to sustain this program.
Lunch and dinner is also served during major festivals or events at the Temple. Many volunteers spend countless hours in meticulously preparing and serving delicious food to the devotees.
Please see the following guidelines for participating in the Temple food service program.
No outside food is permitted inside the Sanctum Mandir for offering to God.
Only food prepared in the Temple kitchen is allowed for offering. There are no exceptions.
No garlic, onion, mushrooms, or egg can be used in any of the food prepared.
All food should be 100% vegetarian.
No leftover food from other functions is allowed.
Consider preparing and serving food with no nuts to accommodate people who may be allergic
Label your dishes if they contain nuts and other items so that devotees can avoid them.
Always use disposable gloves during food service preparation and distribution. Gloves are available in the Temple kitchen.
To sign up for weekend lunch service, please visit : HTCC Lunch Menu Schedule
---
Temple Etiquette
The Temple is a place of worship. To make your visit to the Temple an experience you will remember, please follow the guidelines outlined in this document.